VACUUM TRUCKS WINNIPEG
A1 Environmental vacuum trucks will pump out liquid, sludge and solids at your facilities, while ensuring proper disposal of your waste through our industry leading service. Our team of professionals will pick-up and dispose of your liquids, high solids, oily water or sludge from virtually anywhere including oil/water separators, clarifiers, sumps, trenches, pits, floor drains, and even underground waste tanks.
EXPERTS IN THEIR FIELD THAT ARE COMMITTED TO SUPERIOR SERVICE
At A1 Environmental, we are committed in delivering excellent customer service. Our employees are have years of experience that enables them to deliver expert service that is unmatched in the industry. We offer regularly-scheduled service that you can rely on, as well as unscheduled and emergency service for those unexpected events.
At every service we will:
Safely remove all liquid, sludge, and solids
Thoroughly clean any trenches leading to separators, pits, drains, sumps and other locations
Dispose of your waste in compliance with all regulations
Let A1 Environmental inspect and service your separators and rest assured that everything is handled professionally. At every service call, we will pull and retain a sample to help protect you from compliance problems. Additionally, your waste will always be disposed of in compliance with all local regulations.
WINNIPEG VACUUM TRUCKS
Oil Water Separator Service
Drain, Sump, Pit and Trench Cleanout
Sand Trap / Grit Trap Service
Tank Pumping (Holding Tanks, Underground Waste Tanks)
Spill Clean-up
Process Water Disposal
Sewer Water Drains
Overflowing Storm Systems
Catch & Drainage Basins
Non-Hazardous Liquids and Sludge Disposal
Commercial and Industrial Waste Removal Services
For well over 70 years, A-1 Environmental Services have provided top-notch hazardous waste removal services for our clients' commercial and industrial requirements in Winnipeg. Our range of services includes, but is not limited to:
Tank cleaning services
We predominantly provide non-regulated cleaning services for septic tanks, fuel tanks, oil tanks, among others, for your commercial and industrial needs.
Construction waste
We provide waste removal services for construction and roofing companies as the accumulation of liquid waste from digging on-site can slow down work. If the waste is hazardous, it can be dangerous for the site workers as well. Call us at your location, and we'll be there to pick up your waste, post or during your construction project.
Industrial waste
We offer hazardous waste disposal services for industrial sites such as refineries, mines, etc., to remove liquid waste like contaminated wastewater, spilled chemicals, etc. Our highly equipped fleet can reach your location and take care of all your unwanted industrial waste within the guaranteed time.
Institutional waste
We take great care while removing and disposing any expired or unwanted chemical materials from testing laboratories, educational laboratories, and hospitals. It is essential to perform expert removal of such materials when the general public is involved.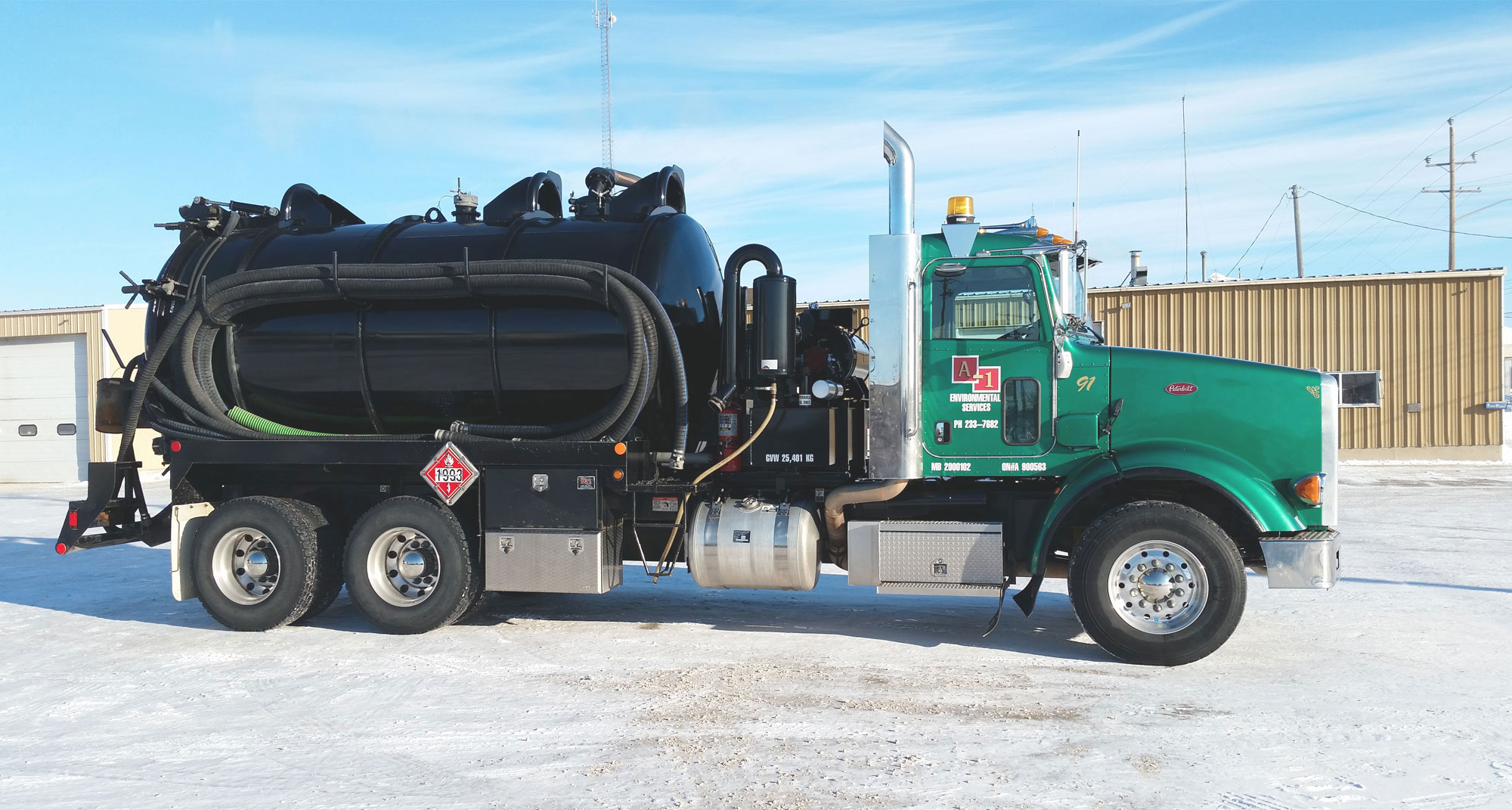 A1 Environmental Vacuum Truck Services in Winnipeg
If you live in the Winnipeg and surrounding areas, and you're on a septic system, you've probably had a visit from a vacuum truck at some point. Hopefully it was one of ours! we have been serving Manitoba Since 1951…
A1 Environmental offers a wide range of vacuum truck services across Manitoba; we also have emergency services available 24 hrs.
Vacuum truck – The most advanced, eco-friendly equipment for pumping anything from sludge ponds to septic tanks.
Industrial vacuum system – Industrial, Commercial-grade vacuum equipment capable of satisfying large-scale septic cleaning needs.
Hydro excavation – High accuracy waste clean-up of environmentally hazardous materials at the most affordable prices.
Sewer backup – the lack of proper sewer backup can cause serious health problems in any building. Our sewer back up includes putting drain, vent, and waste systems back to functionality, full sanitization, and proper clean-up.
Septic cleaning – Our team of trained experts will take care of your septic cleaning. We will make sure that all toxic chemicals and disease-causing organisms from household wastewater are safely disposed of and eliminated.
Septic pumping – Regular septic system pumping and maintenance to ensure your septic system is healthy and fully operational.
When it comes to Vacuum Trucks, A1 Environmental is your experts in and around Winnipeg with over 71 years of experience with trusted service & results.
Hire a Vacuum Truck in the Winnipeg area
Contact us today to get a free quote for septic cleaning, pumping or other service. We're looking forward to working with you!